Join us for a virtual roundtable on Listing in London 26 March 5pm-6pm HK time (9am-10am UK time)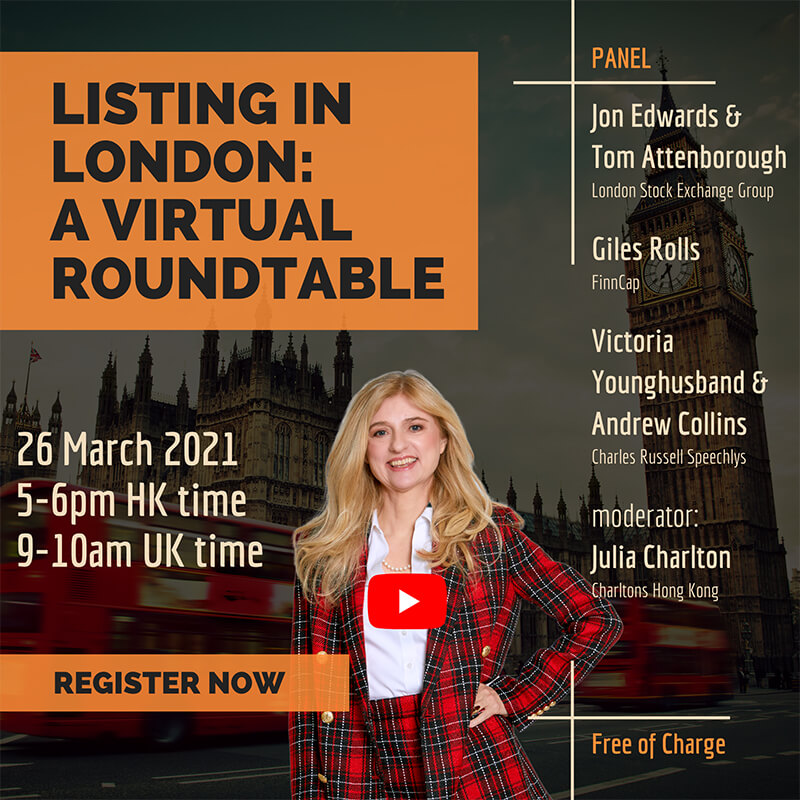 Listing in London: A Virtual Roundtable: Please join us on 26 March 2021 at 5pm HK time (9am UK time) when Julia Charlton will moderate a virtual roundtable discussion on the opportunities for international companies listing on the London Stock Exchange with panel speakers from the London Stock Exchange, FinnCap (the largest adviser on the London Stock Exchange and No.1 broker on AIM) and leading London solicitors, Charles Russell Speechlys.
London has some of the world's deepest and most liquid equity markets and by February 2021, around 20% of companies listed on the Main Market of the London Stock Exchange and around 15% of companies listed on AIM were international companies. £40 billion has been raised by APAC companies on London's equity markets. A London listing is looking increasingly attractive option for Chinese and Hong Kong companies delivering a wide range of benefits and a streamlined listing process. A renewed focus on the Shanghai-London Stock Connect also presents a number of opportunities for Chinese and Hong Kong companies seeking to boost their international exposure and liquidity.
This timely roundtable will focus on the range of London markets open to Asian-based companies seeking listing, eligibility requirements and the IPO process as well as the LSE's specialist funds segment. Recent proposals to revamp the LSE listing requirements to extend listings to dual class ("weighted voting rights") share structures, reduction of free float requirements and new rules allowing special purpose acquisition companies (SPACs) will also be discussed.
To register, please click here.
To submit any questions in advance to the panel, please click here.
You can watch virtual roundtable by following the link.
Subscribe to our newsletter
and stay updated