Mineral policy of government of Myanmar
To boost production to meet growing domestic needs and to increase foreign exchange earnings
To invite participation in terms of technical know-how and investment from sources within the country and abroad
Emphasis on development of copper, gold lead/zinc Iron and steel coal nickel and construction-related industrial minerals such as cement making minerals, dimension stones and aggregates
Mineral related Legislation in Myanmar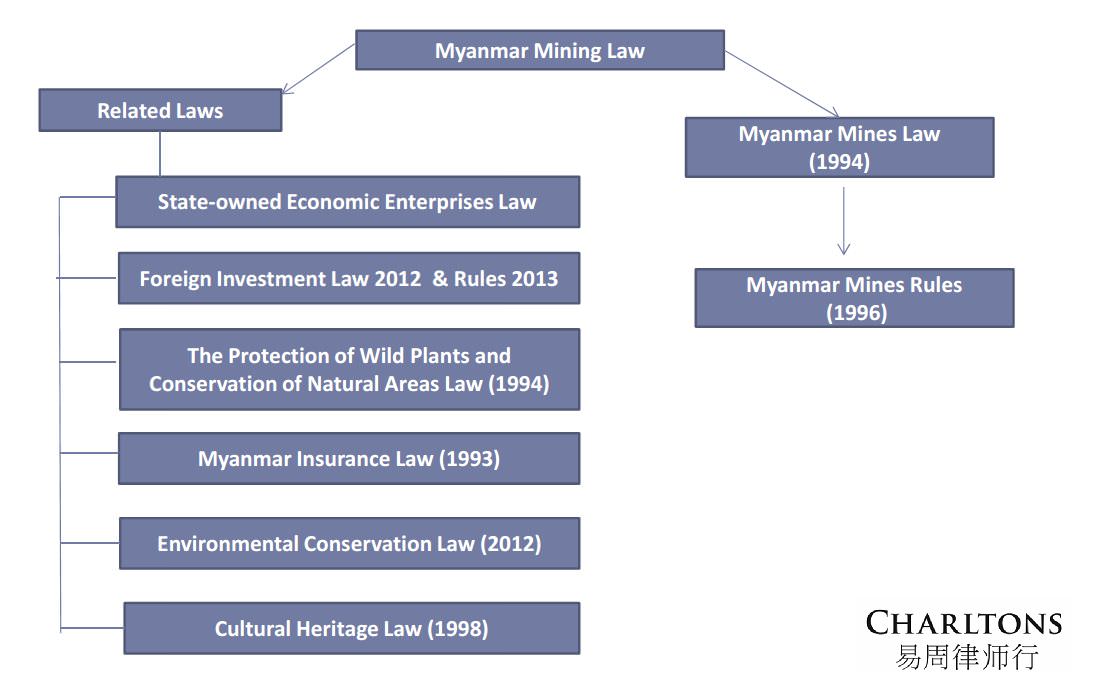 Myanmar mines law 1994*
Objectives
Implementation of the Government's Mineral Resources Policy;
To meet domestic demand and increase exports;
To promote the development of local and foreign investment;
To provide an approval framework for the issuing of licences;
To improve the use, conservation, and research of mineral resources;
Environmental protection
* New draft mining law expected in 2013
Proposed amendments to the mining rules
Description
Existing Mining permit , Time and Area
Future Mining Permit, Time and Area

Mineral

Prospecting

Permit

A period not exceeding 1 year.

The land area not to exceed 4200 Km2.
Extension period not exceeding 12 months.

Remain Unchanged

Mineral

Exploration

Permit and

Feasibility Study

A period not exceeding 3 years.

The land area not exceed 3150 Km2
Extension permit one year at a time
Extension may normally be two occasion only

Remain Unchanged

Large Scale

Mineral

Production Permit

A period not exceeding 25 years shall be permitted.

However, if the estimated life of the ore deposit proposed to be mined is less than 25 years only such period shall be determined.
The land area depends on investment amount and ore deposit.
Extension period not exceeding 5 years at a time. ( may get 3 times to extend )

A period not exceeding 25 years shall be permitted.

The land area depends on investment amount and ore deposit.

Extension period not exceeding 5 years at a time. ( may get 3 times to extend )

Medium Scale

Mineral

Production Permit

Not Include in Previous Law

Not more than 10 Year

Designated land area which shall not exceed 1Km2

Extension period not exceeding one year on four occasions.

Small Scale

Mineral

Production Permit

A period not more than 5 years.

Designated land area which shall not exceed 1Km2
Extension period not exceeding one year on four occasions.

A period not more than 5 years.

Designated land area which shall not exceed 50 acres

Extension period not exceeding one year on four occasions.

Subsistence

Mineral

Production Permit

A period not exceeding 1 year.

The land area not exceed 4200 Km2.

Remain Unchanged
Proposed amendments to the mining rules in relation to gold mining
Description
Existing Mining permit , Time and Area
Future Mining Permit, Time and Area
Small Scale Permit
20 acres and below
5 acres and below
Medium Scale Permit
Not mentioned
Not more than 50 acres
Large Scale Permit
No area limit

Depend upon the size of ore deposits and expected LOM

50 acres and above
Investment process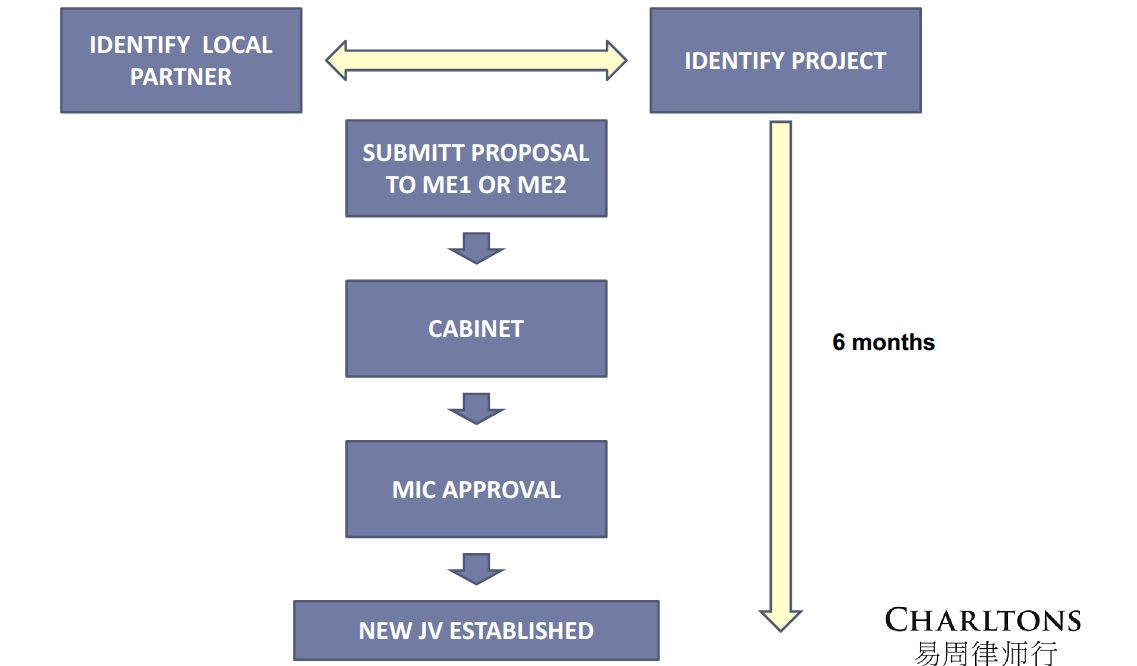 Introductory letter
Identify local partner and execute project MoU
Work with DGSE to review available areas and conduct site visit
Prepare and submit project proposal to relevant State Owned Enterprise ME1 or ME2
Negotiate a draft joint venture and/or production sharing agreement with the relevant Ministry (this will include formal arrangement with local partner to form a new JV Entity)
Submit draft agreement to cabinet for approval
Submit to Myanmar Investment Commission
Execute Formal Agreement & establish Local JV Entity to hold the asset and operate the project.
Project proposal documentation
Company registration documentation
Company profile
Recommendation and endorsement of the applicant's embassy in Myanmar (or relevant embassy responsible for Myanmar)
Financial bank statements
List of Board of directors
Initial work programme
Map of the proposed area with coordinates
Mine closure plan
Environmental impact study
Examples of FDI mining projects
| | |
| --- | --- |
| Company | Type of Mineral |
| Conerstone Resource (Myanmar) Ltd ( Australia ) | Zinc Ore |
| Myanmar Ponepipet Co.,Ltd (Thailand) | 72% Tin Concentrate |
| Myanmar CNMC Nickel Co.,Ltd ( China ) | Ferronickel |
| Simco Song Da Joint Stock Company ( Vietnam ) | Marble |
| Asia Pacific Mining Ltd (China) | Lead, Zinc, Copper, Gold |
| Nobel Gold Limited ( Russia ) | Gold and associated minerals |
| North Mining Investment Co.,Ltd (China) | Ferronickel |
| De Rui Feng Investment Co.,Ltd ( China ) | Tin-Tungsten |
Mining FDI – case studies
Description
Viet Nam Simco Sounda
China Non Ferrous Metal Corporation (CNMC)
Area
Nay Pu Taung, Taunggok Township, Rakhine State
Taguang Taung, Thabeikkyin Township ,Mandalay Region
Investment
US$ 18.5 million
US$ 787.899 Million
Signing
16.3.2012
28.7.2008
Development Period
20 Months
36 Months
Proposed Production Per Year
Marble Block – 30,000 m3
Marble Slab – 100,000 m3
Ferro Nickel – 51416 Tons
Ni = 25.49 %
Royalty
3 %
4 %
Production Sharing Contract Ratio (Government : Company )
20 : 80 (Below – US$ 649)
25 : 75 (Between – US$ 650 – 749)
30 : 70 ((Above –US$ 750)
12 : 88 (US$ 20001- 25000)
15.75 : 84.25 (US$ 25001- 29000)
20 : 80 (US$ 29001- 35000)
23.75 : 76.25 (US$ 35001- 42000)
28 : 72 (US$ 42001- 50000)
32 : 68 (Above –US$ 50000)
Advising the mining and natural resources industry
Charltons assists natural resource companies together with individuals, institutional investors and financial institutions and other professional parties involved in the mining and natural resources industry with: –
Capital Raising – equity, debt and loan financing
Mergers & Acquisitions
Public Market Offers
Mining Agreements
IPO's and pre IPO enquiries
IP protection
Establishment of operations in Hong Kong and the PRC
Capital raising – advising mineral & natural resource companies
Charltons is committed to assisting mineral companies to put in place the most suitable investment structure to accommodate their development plans. Charltons advises on the following : –
Placings to existing shareholders (where option is available)
Share sale / subscription agreements and shareholder agreements
Injection of PE capital via both incorporated and unincorporated joint ventures
Where applicable the drafting and/or review of "off-take" agreements
Due Diligence
The preparation of information memoranda or other investor "teasers"
Capital raising – advising investors
Charltons is experienced in acting for private equity and institutional investors. We understand their objectives and the risk minimization strategies they employ in relation to: –
The cyclical nature of commodity demand
Unpredictability surrounding exploration and production costs
Access to transport infrastructure, management, to labour
Changing national regulations
Geo-political concerns
Local inflation
Environmental compliance
Currency volatility
Risks associated with sustainability and mine-rehabilitation
Geographic remoteness
Community relations
Longer investment horizon
At Charltons we understand the factors that influence mining investors and are experienced in advising on the legal safeguards that should be put in place to protect them. We assist investors balance the goals of risk minimization and profit maximization.
Selected Legal Services
Due diligence
Placings to existing shareholders (where option is available)
Drafting share sale / subscription agreements and shareholder agreements
IP protection where investor / farm-in party contributes IP
Injection of PE capital via both incorporated and unincorporated joint ventures
Where applicable the drafting and/or review of "off-take" agreements
Exit strategies (including Hong Kong IPOs)
Representing PE investor as shareholder
Advising the PE investor's board representative (where applicable)
Putting in place corporate governance policies and practices to protect investor / investment
Conflicts of interests with the invested company
Freedom to transfer interests
Investor rights
Anti-dilution provisions
Tag / drag along rights
Borrowing and charges
IP transfers
Capital raising – advising lenders
We are experienced in advising lenders on the legal aspects of mining project financing, including senior, mezzanine, subordinated and convertible debt together with more traditional corporate debt financing arrangements. We can also advise on bridge financing and other credit facility arrangements and assist listed and private companies and financial institutions on debt purchases.
Our services include advising on: –
proposed project structure (including where applicable SPVs established to facilitate debt arrangement)
primary financing documents
due diligence
provision of security and/or reviewing or drafting security documents as required
insurance arrangements and review of insurance documentation
the legal aspects of life of mine plans and development plans
hedging arrangements
off-take agreements, infrastructure agreements, construction agreements, equipment agreements, operating agreements, maintenance agreements, and product purchase agreements
Capital raising – deal highlights
Highlights for transactions with a debt / loan financing component
Advising Zijin Mining Group Co., Ltd ("Zijin") – a Hong Kong and Shanghai listed miner – on its acquisition of Norton Gold Fields Limited, an ASX-listed gold miner, included reviewing the bid implementation deed, an AUD$38 million loan agreement and the ASX announcement from a Hong Kong legal perspective together with drafting Zijin's public announcement in Hong Kong.
Advising EIG Global Energy Partners on their postponed Chapter 21 – "Investment Vehicle" (Fund) listing in Hong Kong. Our work included drafting relevant sections of the prospectus, advising on pre-IPO restructuring, advising on a loan amendment negotiation and successfully completing an "Investor Advisor" licencing application with the SFC.
Advising one of Australia's largest iron ore producers on a range of project financing options – work included preparation for a Hong Kong listing (postponed at the A1 filing stage), including prospectus drafting together advices on restructuring and pre-IPO capital raising Presently providing on-going advice in relation to a private debt /equity fund raising worth approximately US $3.6 billion.
Advising Zijin on the sale by its wholly owned subsidiary Golden Lake Mining (BVI) Limited of convertible bonds in Glencore Finance (Europe) S.A. to Morgan Stanley & Co. International PLC.
Capital raising – advising borrowers
We are experienced in advising sponsors and borrowers on the legal aspects of mining project financing. We have advised some of the leading PRC and international natural resource companies on their debt offerings. We are also always happy to help junior miners, who may be unfamiliar with the debt financing option, better understand the process so they can make the right choice as to what financing model best suits them.. Among other things, Charlton's assists borrowers with the following: –
Drafting and/or reviewing primary financing documents
The provision of security and/or reviewing or drafting security documents as required
Coordinating the due diligence process on behalf of the miner borrower
Reviewing and/or drafting off-take agreements, infrastructure agreements, construction agreements, equipment agreements, operating agreements, maintenance agreements, and product purchase agreements
Equity contributions (where the financing model combines both debt and equity)
The legal aspects of life of mine plans and development plans
Hedging arrangements
The Listing Agreement (where applicable)
Options, warrants, and similar rights
Convertible debt securities
Mergers and acquisitions
We are frequently retained by major domestic and international mineral companies, financial institutions and leading international law firms to provide strategic counsel in M&A transactions. We advise on:-
Takeovers, mergers and acquisitions in both private and public markets
Due diligence investigations
Management/leveraged buyouts
Privatisations
Group restructurings and reorganizations
Corporate finance and structuring
Mergers and acquisitions – acquisitions in the PRC
Charltons is experience in advising, in cooperation with PRC counsel, on acquisitions in the PRC and on disposals of mining assets by Chinese mining state-owned Enterprises ("SOEs") including:-
Direct Equity Acquisitions
Offshore / Indirect Acquisition
Asset Acquisitions
Governmental Approval Processes for PRC Acquisitions
Documentation
Approval Process and Timing
Non-Governmental Consents and Approvals
Foreign Exchange Issues
Additional Information for Listed Companies
Mining due diligence – some key considerations
Charltons is experienced in coordinating the legal due diligence process for miners contemplating an acquisition. We work closely with local lawyers, geologists and independent technical experts to help miners manage the due diligence process
Mine Retirement / Mine Rehabilitation
Mine Inventory
Mining Equipment
Customers & suppliers
Risk Factors
Foreign Investment
M&A deal highlights
Advised Zijin on its acquisition of Commonwealth & British Minerals Plc., a wholly- owned subsidiary of Avocet mining Plc. The target company owned significant gold assets in Tajikistan
Advised Zijin in relation to the acquisition of KazakhGold Group Ltd., a company listed in the U.K.
Advised Golden Resource Mining (BVI) Limited, a wholly owned subsidiary of Zijin on its off-market cash takeover bid for all the issued share capital of Indophil Resources NL, an Australian publicly-listed company with copper-gold projects in the Asia-Pacific region
Zijin on its acquisition of Kyrgyz and Kazak gold assets from Summer Gold
Advised Zijin on its acquisition of certain Iranian assets owned by Rio Tinto Mineral Development Limited pursuant to an international auction process
Advised Hunan Nonferrous Metals Corporation Limited on a proposed A-Share issue
Advised Zijin Mining Group Co., Ltd on its acquisition of Long Province Resources Limited which holds various gold exploration interests in the PRC
Advised Zijin Mining Group Co., Ltd on its proposed acquisition of copper-molybdenum interests in Peru held by a wholly owned subsidiary of Inca Pacific Resources Inc., a TSX and Lima listed miner
Advised a PRC consortium company, Xiamen Zijin Tongguan Investment Development Company Limited, in relation to a cash offer to acquire Monterrico Metals Plc, an AIM-listed miner with copper assets in Peru (first ever Chinese takeover of a UK listed company)
Advised CST Mining Group Limited – a Hong Kong listed miner – on its disposal of CST Resources Limited which holds 70% interest in one of the largest recent copper discoveries in Southern America
Advising mining companies – mining agreements
Charltons advises mineral companies on a wide variety of mining related agreements including: –
Infrastructure agreements
Mining service agreements – mining operations, mineral handling haulage and loading, general service obligations, safety management, environmental management, tailings management, rehabilitation, management mine water management
Off-take / take or pay agreements
Farm-in / farm-out agreements
Consultancy contracts
Asset sale and purchase agreements
Royalty agreements
Exploration and development joint venture agreements
Myanmar Mines Law
Mining law
Myanmar Investment Commission
Mining FDI
Mining project financing
Mining permit
Mining due diligence
Mineral Prospecting Permit
Mineral Exploration
Mineral Production Permit