Hong Kong: Investment opportunities, conducting business and the legal system
Business Opportunities: Why Hong Kong ?
Reasons:
One of the world's leading financial and business centres
Open and business-friendly environment
Major centre for businesses e.g. 2nd largest market in Asia after the Mainland
Physical and political proximity to China
Low tax regime; lower-tariff structure
Modern infrastructure
Internationally accepted and transparent legal system
How Hong Kong Scores in World Business Rankings:
Most successful economy to attract foreign direct investment in 2011 – 2012 FDI Flows, UNCTAD
3rd most competitive advanced economy in the world – IMD World Competitiveness Yearbook 2013
Most tax-friendly economy in Asia Pacific and ranked the fourth in the world – 2013 Paying Taxes
Easiest place to raise capital in the world – Global Capital Access Index 2013
Asia's top financial city and 3rd in the world – Global Financial Centers Index 13
World's freest economy – 2013 Index of Economic Freedom
3rd in ease of doing business – Doing Business 2013
Highest level of globalisation in the world – 2012 Globalisation Index
Source: Invest HK, IMD, UNCTAD, PwC, Heritage Foundation, IFC, World Bank
Hong Kong is the 6th largest exchange in the world and 2nd largest exchange in Asia by market capitalisation
Source: Invest HK, IMD, UNCTAD, PwC, Heritage Foundation, IFC, World Bank
World's Top 5 in IPO Funds Raised for 12 Years in a Row
World's top 5 in terms of IPO funds raised for 12 consecutive years
No. 1 International Financial Centre in Aisa
No. 1 Free Economy in the world for 19 consecutive years
No. 1 Globalised Economy for 2 consecutive years
Top 3 most competitive advanced economy
Sources: Bloomberg, World Federation of Exchanges, Dealogic, World Economic Forum, The Heritage Foundation and Wall Street Journal, Fraser Institute and Economic Freedom Network, Economist Intelligence Unit and Ernst & Young, International Institute for Management Development, The Chinese Academy of Social Sciences (as at end of 2012), IMD World Competitiveness Centre, Dealogic
Global Leader in IPO Funds Raised
Hong Kong is Transforming into an International Listing Platform
Selected International Listings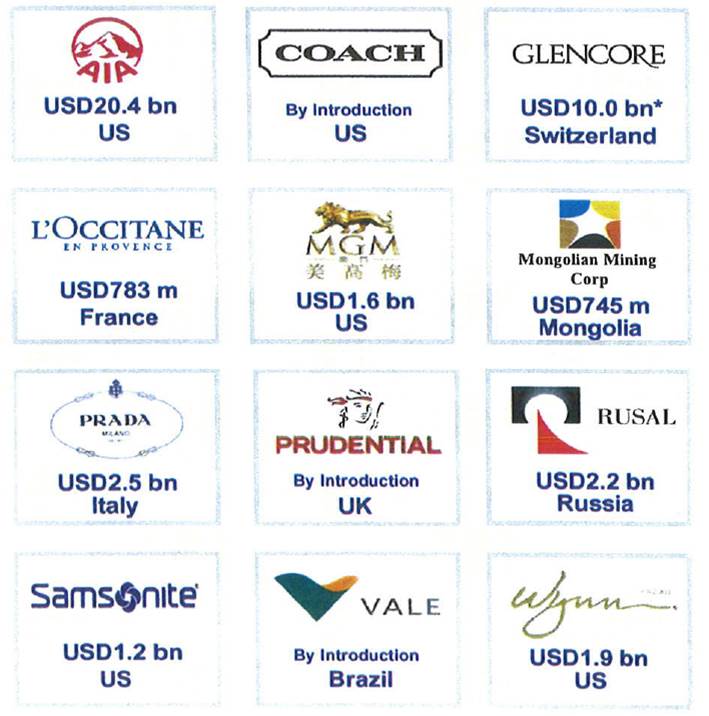 Source: Hong Kong Exchanges and Clearing Limited
International Companies Increasingly Choose to List in Hong Kong
By Numbers

Increasing number of international companies continue to list in Hong Kong
2008 – 2011: the listing of international companies almost doubled
Source: Hong Kong Exchanges and Clearing Limited
Accommodates Smaller as well as Large issuers
Gateway to Mainland China
| | | | | |
| --- | --- | --- | --- | --- |
| | Unit | Total | Mainland Enterprise | % of Total |
| As at 31 December 2013 | | | | |
| No. of listed companies | Number | 1,643 | 797 | 49% |
| Market capitalisation | HK$bn | 24,043 | 13,691 | 57% |
| As of 31 December 2013 | | | | |
| Total equity funds raised | HK$bn | 374.3 | 308.6 | 82% |
| – IPO funds raised | HK$bn | 166.5 | 152.2 | 91% |
| – Post IPO funds raised | HK$bn | 207.8 | 156.3 | 75% |
| Average daily turnover | HK$bn | 62.6 | 32.9 | 72% |
Source: Hong Kong Exchanges and Clearing Limited
Ranked Number 3 Globally in terms of FDI Inflows
Total amount of FDI inflows into Hong Kong in 2011 was US$96.1bn
Hong Kong ranked #3 in 2012 amid global contraction
Hong Kong was ranked #4 in 2011
Source: UNCTAD STAT
Top 10 Destinations for FDI Inflows in Asia
Hong Kong continues to be the second largest FDI recipient in Asia, after Mainland China for 15 consecutive years since 1998
Economic recovery in Asia in terms of inward FDI was rapid
Source: UNCTAD STAT
Major Investors in Hong Kong
Mainland China remains the leading source of investments to Hong Kong
Other major investor countries include Singapore (HKD$17.1bn), Cayman Islands (HKD$12.6bn), Cook Island (HKD$10.1bn) and Japan (HKD$7.7bn)
Source: Hong Kong Census and Statistics Department
Ranked Number 4 Globally in Terms of FDI Outflows
| | |
| --- | --- |
| | Amid the global economic contract, Hong Kong remains a significant conduit for the outbound investment |
Source: UNCTAD STAT
Major Investment Destinations for Hong Kong Investors
British Virgin Islands and Mainland China are the two most favorite investment destinations for Hong Kong investors
Other popular investment destinations include Singapore (HK$10.5bn) and Luxembourg (HK$0.7bn)
Source: Hong Kong Census and Statistics Department
Business Setup in Hong Kong
Step 1: Select company name and structure

check with Hong Kong Companies Registry to ensure company name is unique
common company structures: limited companies, sole proprietorships, representative offices or partnerships

Step 2: Incorporate the company

registered office must be situated in Hong Kong
private limited company requires at least 1 director and 1 secretary
no requirement for shareholders to be Hong Kong residents
submit appropriate fees and documents to the Hong Kong Companies Registry
Certificate of Incorporation and Business Registration Certificate can be issued within 24 hours (online) or within 4 working days (paper application)
Online application via Companies Registry's electronic service portal e-Registry"

Step 3: Register business with the Business Registration Office of the Inland Revenue Department

all businesses must register within 1 month of commencing business
Business Registration Certificate must be displayed at the place of business

Step 4: Open business bank account

must have business registration and company incorporation completed beforehand
banks normally require a minimum deposit of approx. HK$2,000 (US$260)
banks will have Know-Your-Customer guidelines and collect information to verify and confirm identity before opening bank accounts

Step 5: Select business premises

a wide variety of business premises are available within a small radius of the central business district on Hong Kong Island

Step 6: Hire staff and apply for visa where necessary

visa-free entry for residents from over 170 countries for trips ranging from 7-180 days
foreign nationals must obtain a visa before coming to Hong Kong to live, work or invest
different types of visa: employment, investment or dependent visa
every adult who enters and is permitted to stay in Hong Kong for more than 180 days must apply with the Immigration Department for a Hong Kong Identity Card within 30 days of arrival
Employment Ordinance (Cap. 57) sets out the employment regulations
Source: InvestHK website
http://www.investhk.gov.hk/index.html
Sector Opportunities – Legal Services
812 local solicitor firms and 70 foreign law firms
More than half of the Global 50 law firms have a presence in Hong Kong
2 factors leading to continual demand for legal services:

Hong Kong has the highest number of corporate headquarters in the region, and
Hong Kong is Asia's leading financial services centre

Opportunities:

Growing demand for services related to IPOs
Growing demand for local legal advice
Growing demand for foreign legal advice
Mainland companies' overseas investments grow rapidly, leading to high demand for expert advice for wide range of issues relating to M&A, commercial litigation, international arbitration, corporate law, intellectual property rights, etc.
More about the Legal System in Hong Kong
I. Introduction
Under the principle of "One Country, Two Systems" enshrined in the Basic Law, Hong Kong enjoys high degree of autonomy from the Mainland China
The Basic Law ("BL") is Hong Kong's mini-constitution:

The BL took effect on 1 July 1997 on the establishment of the HKSAR

Nature of the BL

ensures that all the laws previously in force in Hong Kong shall be maintained except for any that contravene the Basic Law and subject to any amendment by the HKSAR legislature
National laws of the People's Republic of China shall not be applied in the HKSAR except for laws relating to defence and foreign affairs

Relationship between the Central Authorities and HKSAR

HKSAR enjoys executive, legislative and independent judicial power, including that of final adjudication
HKSAR is authorized to conduct relevant external affairs on its own in accordance with the BL
HKSAR is authorized to maintain public order in accordance with its government

Fundamental rights protected by the BL

Right to equality before the law; freedom of speech; freedom of the press and of publication; freedom of association; freedom of assembly; freedom of procession and of demonstration; right and freedom to form and join trade unions; freedom to strike; freedom of movement; freedom of conscience; freedom of religious belief, etc.
BL guarantees that the provisions of the International Covenant on Civil and Political Rights, the International Covenant on Economic, Social and Cultural Rights, and the International Labour Conventions as applied to Hong Kong will remain in force

Political structure of the HKSAR

Chief Executive ("CE") is the head of the HKSAR and is accountable to the Central People's Government and the HKSAR
The CE is assisted by members of the Executive Council
HKSAR's legislature is the Legislative Council
II. How Does the Legal System in Hong Kong Work?
Common law

Hong Kong is a common law jurisdiction so common law and rules of equity are to be found primarily in judgments

Statute law enacted in Hong Kong

Vast majority of statute law in force is made locally and contained in the Laws of Hong Kong

Some aspects of Chinese customary law also apply

g. in relation to land in the New Territories

International law

Over 200 international treaties and agreements have been applied in Hong Kong
However, a treaty does not constitute part of Hong Kong's domestic law until given effect by legislation
May be resorted to interpretation by the courts

Criminal law

Secretary for Justice responsible for conduct of criminal prosecutions; HKSAR Government against individuals
Jury system for most serious criminal offences e.g. murder, manslaughter, rape, armed robbery and certain drug offences etc.

Civil law

HKSAR Government against individuals; or more commonly individuals against individuals
Burden of proof is easier to discharge, i.e. standard of proof being one based on the balance of probabilities
Source: Department of Justice website http://www.doj.gov.hk/eng/legal/
III. The Judiciary
(i) The Courts
Court of Final Appeal ("CFA")

Under provisions of the BL and the Hong Kong Court of Final Appeal Ordinance (Cap. 484), judges of the CFA are appointed by the CE
3 permanent judges and 1 non-permanent Hong Kong judge or 1 judge from another common law jurisdiction hear an appeal

High Court (i.e. Court of Appeal ("CA") and Court of First Instance ("CFI"))

CA hears appeals on all matters including civil and criminal from the CFI and DC, as well as appeals from the Lands Tribunal
CA also makes rulings on questions of law referred to by the lower courts
CFI has unlimited jurisdiction in criminal and civil matters
CFI also hears appeals from the MC, Labour Tribunal, Small Claims Tribunal and the Obscene Articles Tribunal

District Court ("DC")

DC has limited jurisdiction in criminal and civil matters
Civil matter- cannot hear monetary claims over HK$1,000,000
Criminal matter- may try more serious cases except murder, manslaughter and rape; max term of imprisonment it can impose is 7 years

Magistrates' Courts ("MC")

MC hear a wide range of criminal offences, usually minor offences
All criminal matters appear initially in MC
The normal maximum sentence is 2 years' imprisonment and a fine of $100,000
Some securities-related offences are also heard in MC

Coroner's Court

Inquires into deaths which occur as a result of accident, violence or suspected circumstances

Juvenile Court

Hear charges against children (aged under 14) and young persons (aged between 14 and 16)
Cannot hear homicide
Children under age of 10 are deemed not to have reached age of criminal responsibility

Lands Tribunal

Determine sums payable by the Government and others for compensation to persons whose land is compulsorily resumed or the value of which is reduced because of public or private developments
Determine building management disputes; appeals from decisions of the Commissioner of Rating and Valuation, and appeals against assessment of the prevailing market value of property made by Director of Housing
Determine matters under Landlord and Tenant (Consolidated) Ordinance (Cap. 7)

Labour Tribunal

Provides a quick, inexpensive and informal method of settling disputes between employers and employees
No legal representation

Small Claims Tribunal

Informal hearing
Hears minor monetary claims not exceeding HK$50,000
No legal representation

Obscene Articles Tribunal

Determine whether an article referred to it by a court or a magistrate is an obscene or indecent article under the Control of Obscene and Indecent Articles Ordinance (Cap. 390)
Classify whether an article falls under Class I (neither obscene nor indecent) or Class II (indecent) or Class III (obscene)
(ii) Role of the Secretary for Justice
Appointed by the Central People's Government after being nominated by the CE
Must be a legal practitioner; Chinese citizen and permanent resident with no right of abode in any foreign country and have resided in Hong Kong for continuous period of not less than 15 years
A member of the Executive Council
The plaintiff in criminal proceedings on behalf of the HKSAR Government
Also the defendant in civil actions brought against the HKSAR Government
Other general duties and responsibilities
(iii) The Department of Justice ("DOJ")
Secretary of Justice is the head of the DOJ
DOJ comprises of 6 divisions:

Civil- provides legal advice on civil law to all government bureaus and departments. Represents the Government as solicitors and barristers in all civil litigations including arbitrations
International law- provides advice on public international law to the government and negotiates, or provides legal advisers on negotiations for bilateral agreements
Law drafting- responsible for drafting all government legislation of the HKSAR
Legal policy- advises the Government departments and bureaus on whether proposed legislation or policy is consistent with the BL, international human rights standards etc.
Prosecutions- conduct prosecution in majority of CFI and DC trials
Administration and development- responsible for reporting to the Legislative Council on finances of Department of Justice. Deals with the running of a major government department including administrative, financial, accounting and management services, etc.
IV. The Legal Profession
Unlike in the US, the legal profession in Hong Kong is divided into 2 distinct branches:

Barristers (a.k.a. "counsel"):

Over 1,200 practising barristers
All members of the Hong Kong Bar Association
Barristers can only accept instructions from a firm of solicitors or members of professional bodies recognized by the Bar Association
Practise as sole-proprietors
Usually practise in a set of chambers

Solicitors:

Over 7,500 practising solicitors
Members of the Law Society
Some 374 solicitors are admitted to practise as notaries public

Hong Kong is the most liberal Asian jurisdiction in terms of permitting foreign lawyers to practice; no entry barriers for foreign law firms or foreign lawyers
Home to 812 local solicitor firms and 70 foreign law firms
Examples of US law firms in Hong Kong: Debevoise & Plimpton LLP; Cadwalader, Wickersham & Taft LLP, Maples and Calder, Harney Westwood & Riegels etc.
40% of international lawyers in Asia are based in Hong Kong
V. Arbitration and Mediation
Hong Kong is Asia's leading international arbitration centre
Arbitration has been a popular method of dispute resolution in Hong Kong

Resolving successfully each year hundreds of major business disputes involving trade, construction, joint ventures, shipping etc.

Governed by the Arbitration Ordinance (Cap. 341), which is based on the UNCITRAL Model law
The Hong Kong Arbitration Centre (HKIAC) was established in 1985 to act as an independent and impartial focus
Number of cases involving the HKIAC has substantially increased in recent years and is anticipated to further increase because of increased popularity of arbitration and mediation as a means of dispute resolution
Similarly, mediation is a dispute resolution process conducted in confidence in which a neutral third party (i.e. mediator) is engaged to facilitate the parties in arriving at a negotiated settlement
Securities Regulation in Hong Kong
I. The Securities Market: A General Overview
In terms of market capitalisation, Hong Kong has the world's 7th largest securities market and the second largest in Asia after Tokyo
The Hong Kong Stock Exchange and the Futures Exchange were merged into Hong Kong Exchanges and Clearing (HKEx) as of March 2000
Influx of Mainland China issuers into Hong Kong, boosted by economic reforms, has accelerated growth of the Hong Kong market
Hong Kong is the most liquid overseas market for Mainland enterprises
II. Securities Regulation: Regulatory Structure
The securities market in Hong Kong is regulated by the Securities and Futures Commission ("SFC")

SFC was founded in 1989
It is an independent statutory body with licensing and supervisory powers over the securities sector including securities, futures and financial investment industries
It has power to take appropriate action to protect Hong Kong's securities markets and to prosecute individuals who violate securities market ordinances and codes
Securities and Futures Ordinance (Cap. 571) came into force on 1st April 2003

to detect and deter manipulation and to improve investor protection

The Companies Ordinance (Cap.622) and the Companies (Winding Up and Miscellaneous Provisions) Ordinance also came into force in 3 March 2014
These pieces of legislation form the backbone of securities market regulation

The Hong Kong Exchanges and Clearing Limited ("HKEx") performs a self-regulatory function and its rules are subject to the SFC approval
SFC's regulatory objectives include:

To maintain and promote the fairness, efficiency, competitiveness, transparency and orderliness of the securities and futures industry;
To promote understanding by the public of the operation and functioning of the securities and futures industry;
To provide protection for members of the public investing in or holding financial products;
To reduce systemic risks in the securities and futures industry; and
To assist the Financial Secretary in maintaining the financial stability of Hong Kong by taking appropriate steps in relation to the securities and futures industry
Gateway to Mainland China
I. Hong Kong's physical proximity to Mainland China:
Hong Kong is the key city on China's southern coast and adjacent to China's biggest and most productive manufacturing region (i.e. the Pearl River Delta, often known as 'the factory of the world')
Many overseas companies involved in China trade have established their head offices in Hong Kong because of its strategic location
Hong Kong provides the capital, management skills, technology, market knowledge, mature business infrastructure and access to international markets; while
Cities in the Pearl River Delta provide world-class, low-cost manufacturing, access to the world's second biggest economy and the world's biggest single market of 1.3 billion consumers
II. The Mainland and Hong Kong Closer Economic Partnership Arrangement (CEPA):
A free trade agreement which grants easier access to Mainland China markets for Hong Kong-made products and Hong Kong-based service companies
Trade in goods

Duty-free export to Mainland China for Hong Kong-made products; over 1,500 categories of 'Made in Hong Kong' products may be exported to the Mainland tariff-free, subject to certain criteria being met

Trade in services

Easier market entry for Hong Kong-based service providers
CEPA currently covers 42 service sectors

Trade and investment facilitation

Hong Kong and Mainland China have agreed to cooperate in various areas to facilitate trade and investment, e.g.:

Cooperation of small and medium-sized enterprises (SMEs)
Trade & investment promotion
Transparency in laws and regulations
Protection of intellectual property
Potential business opportunities in PRC
Investment in certain industries requires approval by central government authorities
Whereas approval for smaller foreign-invested enterprises (with a total investment of less than US$30 million) has been delegated to provincial, regional and municipal governments
I. Forms of investment vehicles:
Assembling and Processing Contracts (APC)
Sino-Foreign Equity Joint Ventures (EJV)
Cooperative Joint Ventures (CJV)
Wholly Foreign-Owned Enterprises (WFOE or WOFE)
PRC Holding Companies
Representative Offices (RO)
Branches
1. Assembling and Processing Contracts (APC)
simplest form
foreign company supplies raw materials or parts on a consignment basis to a local entity in PRC
a fee is paid to the PRC entity for its work
processed goods then returned to the foreign company
the foreign company will have to supply necessary production technology, equipment and supervision
the foreign investor is not allowed to sell any of the goods produced on the domestic market without approval of PRC authorities
2. Sino-Foreign Equity Joint Ventures (EJV)
established in accordance with PRC's Sino-Foreign Equity Joint Venture Law and associated implementation regulations
limited liability companies with Joint PRC and foreign ownership
set up for a specific purpose
foreign partner provides capital investment, technical expertise and management skills and arranges for technology transfer
PRC entity makes available land, buildings and labour
the two parties' equity contributions determine their share of the results
3. Cooperative Joint Ventures (CJV)
established in accordance with PRC's Sino-Foreign Cooperative Joint Venture Law and associated implementation regulations
also known as contractual joint ventures
similar to EJV except obligations of each party are spelled out in a contract
contracts usually specify minimum registered capital and capital contributions of each party, their respective shares of the results, etc.
4. Wholly Foreign-Owned Enterprises (WFOE or WOFE)
established in accordance with PRC's Foreign-Owned Enterprise Law and associated implementation regulations
wholly owned by one or more foreign investors; no Chinese business partner
advantage: allow foreign investor great management control, flexibility and autonomy
can also better protect trade secrets and other intangible assets
disadvantage: has to meet huge registered capital requirements
5. PRC Holding Companies
foreign investors to establish holding companies in PRC to hold equity interests in foreign investment enterprises
may trade goods manufactured by investees
PRC holding companies and subsidiaries are taxed as separate entities
6. Representative Offices (RO)
not separate legal entities
very limited business scope
prohibited from engaging in business operations
functions: provide the business liaison, introduce new production or promotional services, conduct market research and development, and technology info exchange
7. Branches
foreign companies in certain industries such as banking, insurance and shipping may set up branches in the PRC
not separate legal entities
II. Procedures for establishing a Foreign Investment Enterprise (including EJV, CJV, WFOE/WOFE):
provide documents to the Ministry of Commerce or provincial commerce departments:

Application form
Feasibility research report compiled by all parties
Bank credit certificates
Audit report
Evaluation report
Name list of members of board of directors
Notice of pre-approval of enterprise name
Certificate documents for the use of land

application will be approved or dismissed within 3 months as of date of receipt of documents
within 1 month after receiving certificate of approval, investor must go through the registration formalities
III. Resolving commercial disputes in PRC:
Consultation

facilitated by third party if parties agree
result can be legally binding if properly recorded in an agreement

Mediation

if conducted in court- before judge (part of litigation procedures according to PRC Civil Procedure Law)
if conducted out of court- before impartial third party
the Beijing Conciliation Centre of the China Council for Promotion of International Trade (CCPIT) conducts formal mediation between Chinese and foreign parties

Arbitration

conducted by the China International Economic and Trade Arbitration Commission (CIETAC) in Beijing, Shanghai or Shenzhen in accordance with its own Arbitration Rules and subject to the PRC Arbitration Law and other relevant laws
foreign investors may prefer international arbitration where arbitrators with expertise at international level can be appointed and the local favouritism of the courts in Mainland China can be avoided
so it is important to have a well-drafted arbitration clause in the contract to ensure international arbitration is the choice

Litigation

basic framework for civil litigation in PRC as laid down in the PRC Civil Procedure Law
other relevant sources of authority: various judicial interpretations by the Supreme People's Court or the Supreme Procurate; the PRC Contract Law; the laws and regulations that govern foreign investment enterprises, and the Foreign Investment Enterprise Winding Up Measures
Hong Kong Companies Registry
foreign investment enterprises
legal system in Hong Kong
Business Registration Office
The Mainland and Hong Kong Closer Economic Partnership Arrangement
Hong Kong Arbitration
Hong Kong Stock Exchange
Hong Kong Companies Act
Business Registration Certificate
Foreign Investment Enterprise Winding Up Measures
Business bank account
Business setup in Hong Kong