Publications & presentations
Belt and Road – Introduction
China's most ambitious project – economically & diplomatically since the People's Republic's establishment
Hong Kong – as the interface between Mainland China and the rest of the world – stands to benefit from the numerous business opportunities which will arise out of the Belt and Road initiative
Hong Kong's position is unique: it is a part of China, but under the One Country Two Systems framework, it retains its own legal system
As China's most cosmopolitan city and a leading international financial centre, Hong Kong is a very attractive place for Chinese companies to raise funds and for companies from around the world to invest in China
Hong Kong is the world's largest centre outside Mainland China for issuing debt denominated in renminbi (RMB)
Hong Kong's abundance of world-class professionals in financial, legal and accounting services, its lack of restrictions on capital flow, currency convertibility and simple low tax regime will allow Hong Kong to play a key role in facilitating investment under the Belt and Road initiative.
Belt and Road Today – Overview
May 2016 – AIIB's first loan to Pakistan for construction of M4 highway along the China-Pakistan Economic Corridor
End May 2016 – over half of the total value of China's overseas construction contracts came from countries along the Silk Road
September 2016 – Silk Road Bonds were discussed as a new funding source
December 2016 – projects worth US$ 926 billion had been signed along the belt and road
Sources:
http://www.bbc.com/zhongwen/trad/press_review/2016/07/160701_press_review ;
http://www.bbc.com/zhongwen/trad/press_review/2016/07/160701_press_review ;
http://www.chinausfocus.com/finance-economy/belt-and-road-initiative-makes-strong-progress
Belt and Road Hong Kong Stands to Benefit
Professional services
Capital Raising centre
Infrastructure services
Information technology services
Hong Kong as a Super Connector
Hong Kong as an international financial centre

Strong networks with China and internationally
Fund-raising and financing capabilities
Expertise in infrastructure development
Independent legal system
Hong Kong as a Professional Services Provider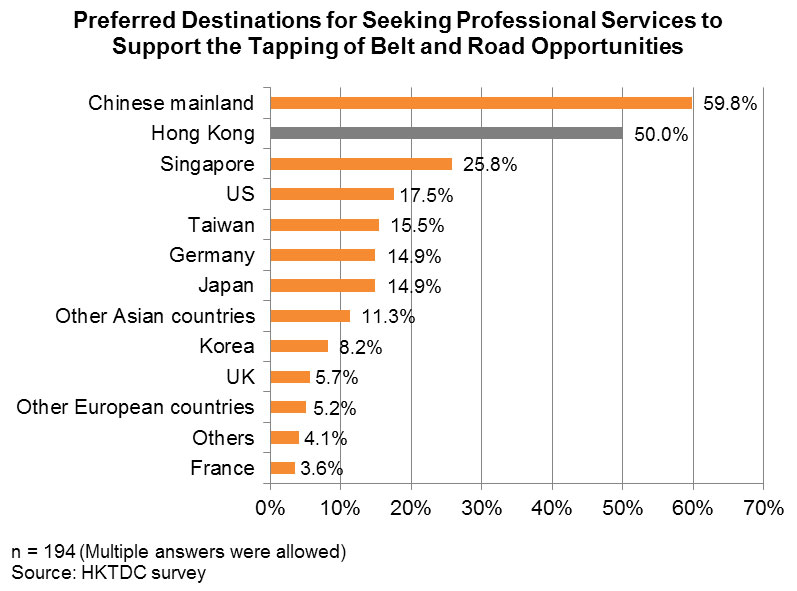 Professional Services

Accounting, law and management consultancy
International and Hong Kong law firms
Banking, insurance, property valuation, infrastructure development, construction etc.
Hong Kong as a Capital Raising Centre
ADB estimates a funding shortfall for Asian infrastructure projects of US$ 750 billion per year through 2020
Hong Kong to play key role as an infrastructure financing centre for Belt and Road projects
Hong Kong's International Financing Facilitation Office (IFFO)

Established in July 2016 by the Hong Kong Monetary Authority
Platform to facilitate infrastructure investments and their financing
Mission – Facilitate exchange of information and strategies, collaborate efforts
Some key partners – Bank of China, China Construction Bank Corporation, Citigroup, Standard Chartered Bank, HSBC, Asian Development Bank, Silk Road Fund etc.

Source: https://www.iffo.org.hk/about-us/IFFO_Partners
Stock Exchange of Hong Kong:

Equity
Commodities
Fixed Income and Currency
IPO Equity Funds Raised (1 Jan – 15 Dec 2016)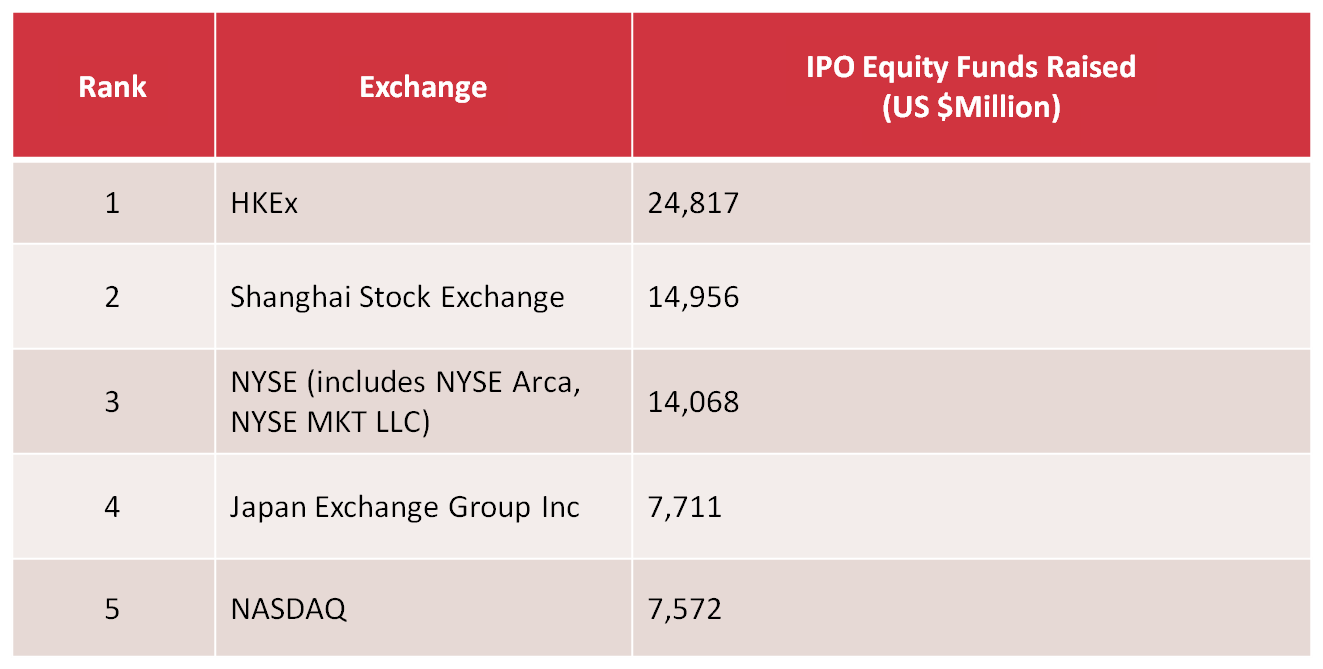 Source: https://www.hkex.com.hk/eng/newsconsul/hkexnews/2016/Documents/1612202news.pdf
Total Equity Funds Raised (Jan – Nov 2016)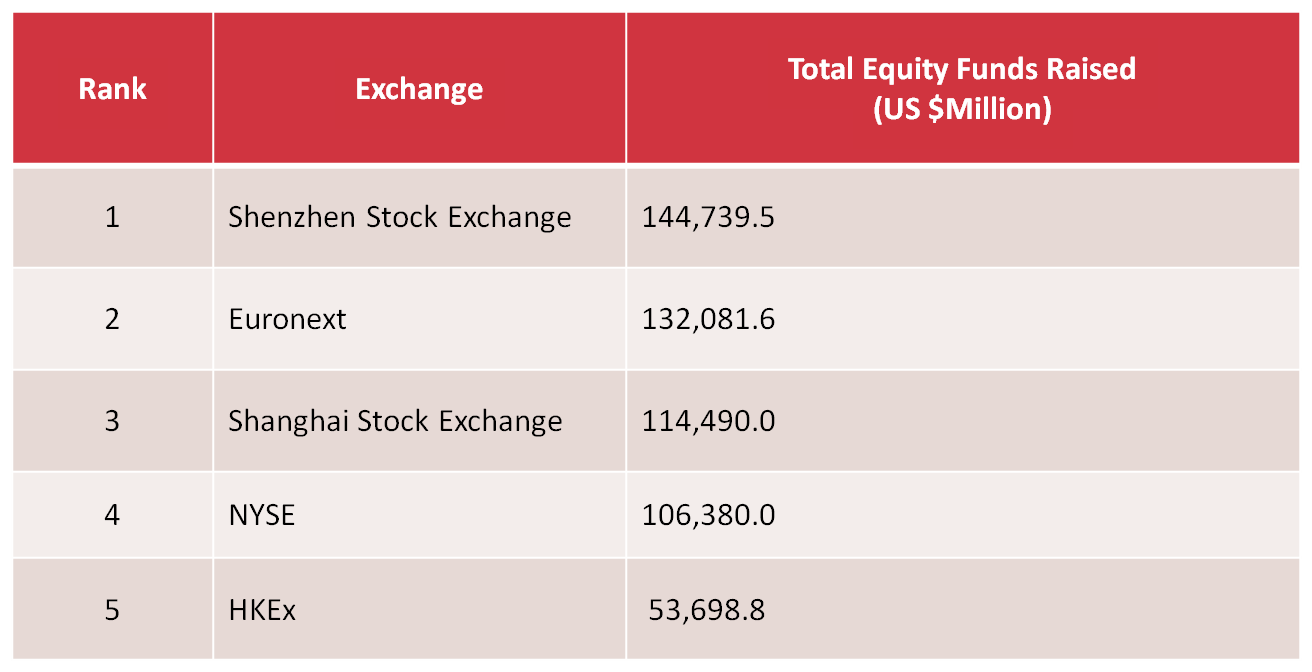 Source: https://www.hkex.com.hk/eng/newsconsul/hkexnews/2016/Documents/1612202news.pdf
Equity
Stock Connect schemes

Shanghai-Hong Kong Stock Connect (2014)
Shenzhen-Hong Kong Stock Connect (2016)

Future trends

introduce new products, such as Exchange Traded Funds (ETFs), listed bonds and convertible bonds
Primary Equity Connect to allow investors to buy IPO shares through Stock Connect schemes
Listing on the Hong Kong Stock Exchange
Two Markets: Mainboard and Growth Enterprise Market
"Recognised jurisdictions" – Hong Kong, China, Bermuda and the Cayman Islands
24 "accepted jurisdictions" of incorporation – Australia, Brazil, the British Virgin Islands, Canada (Alberta, British Columbia and Ontario), Cyprus, France, Germany, Guernsey, the Isle of Man, India, Italy, Japan, Jersey, Luxembourg, Republic of Korea, Labuan, Russia, Singapore, the United Kingdom and the United States (State of California, State of Delaware and State of Nevada)
Companies from other jurisdictions must satisfy requirements of Joint Policy Statement Regarding the Listing of Overseas Companies (September 2013), including demonstration that shareholder protection standards under the laws of their jurisdiction are equivalent to those under Hong Kong law
Operating History and Management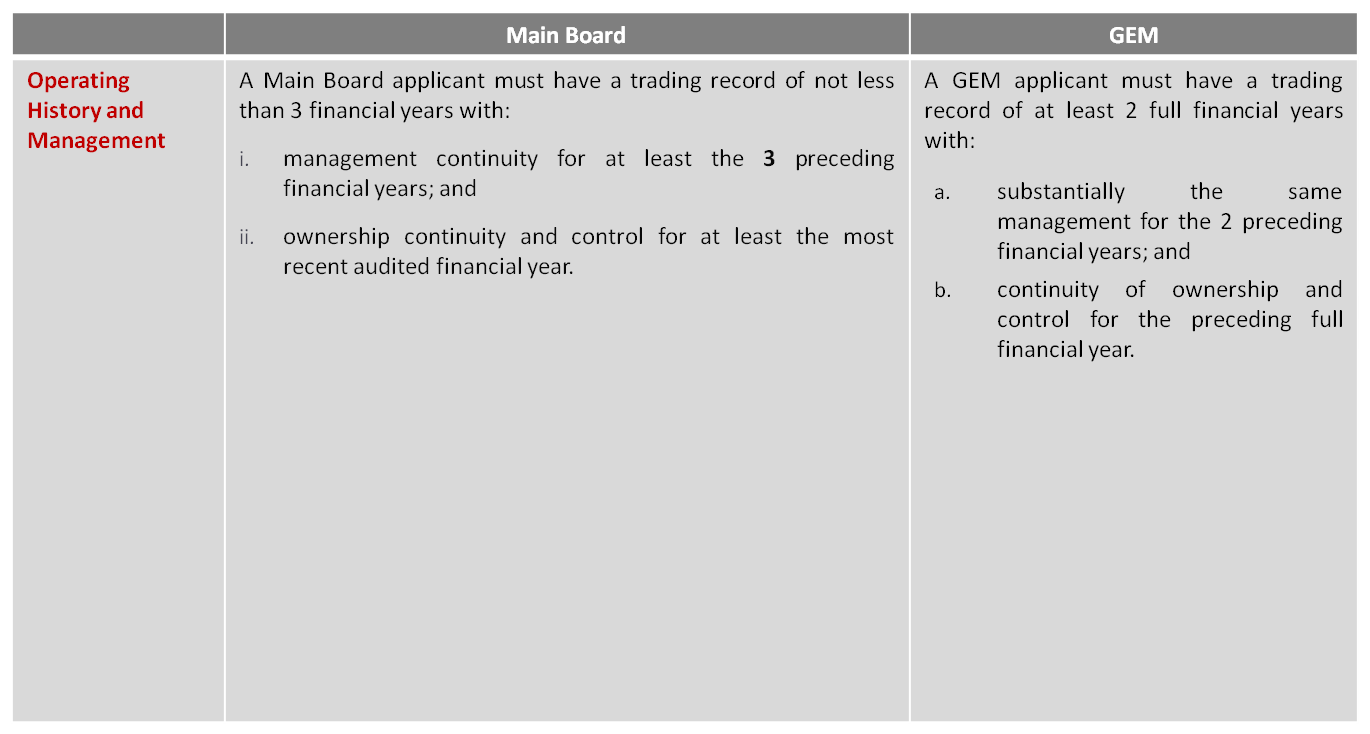 Financial Tests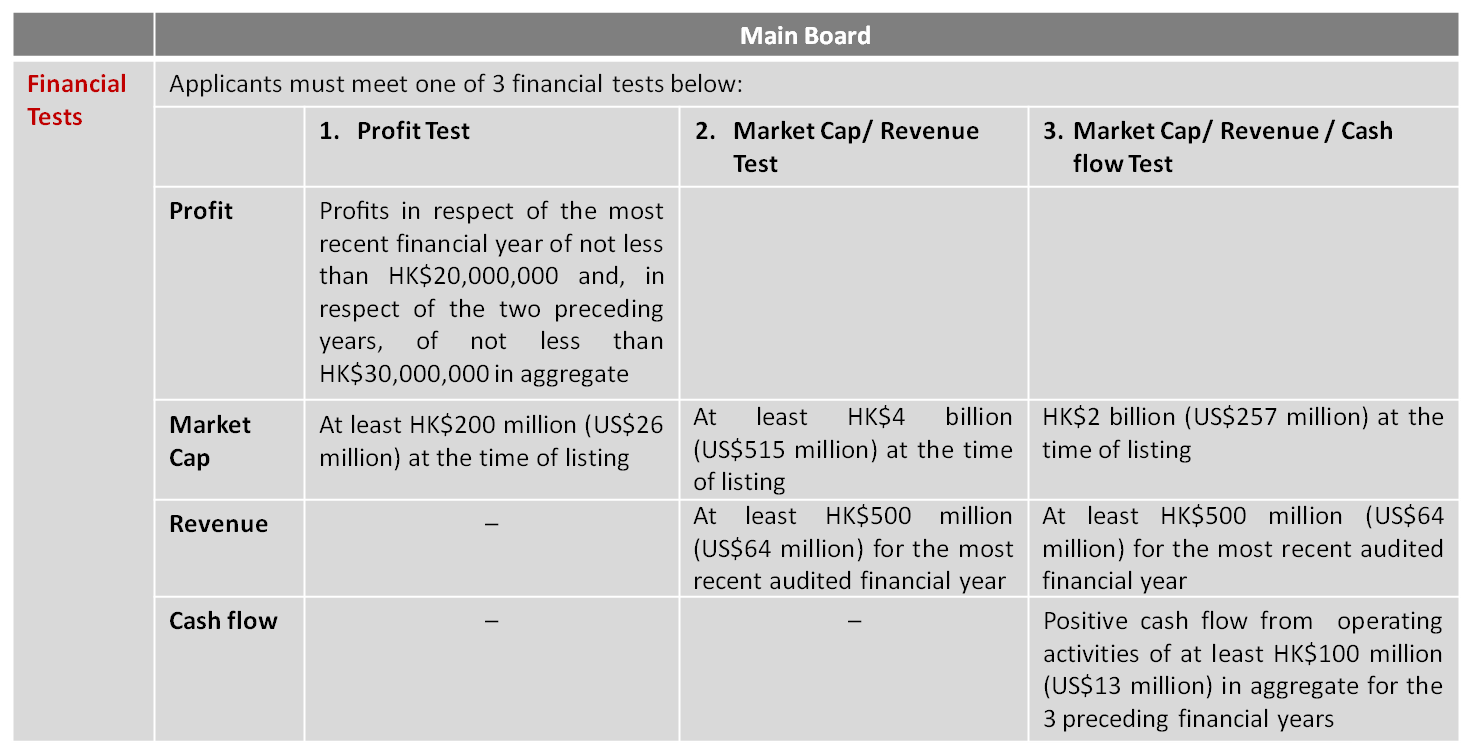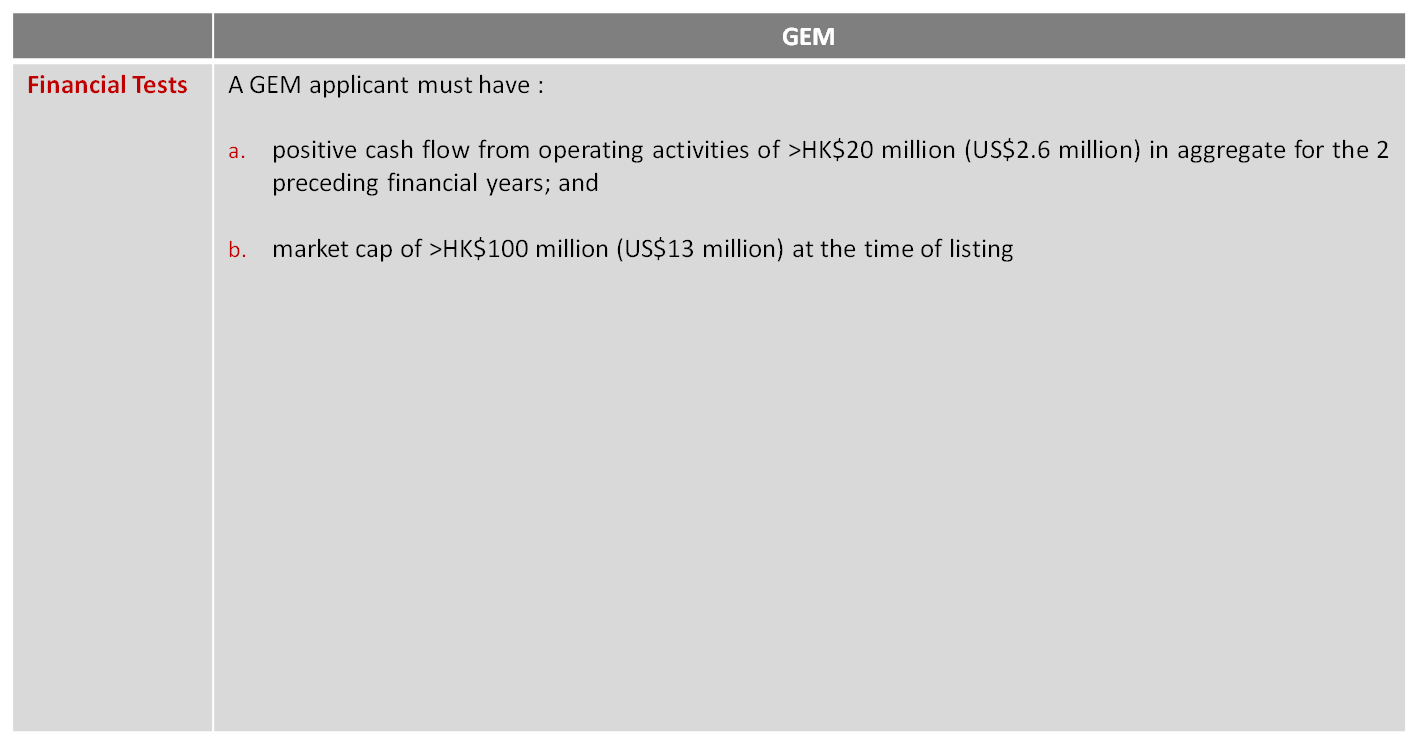 Public Float and Spread of Shareholders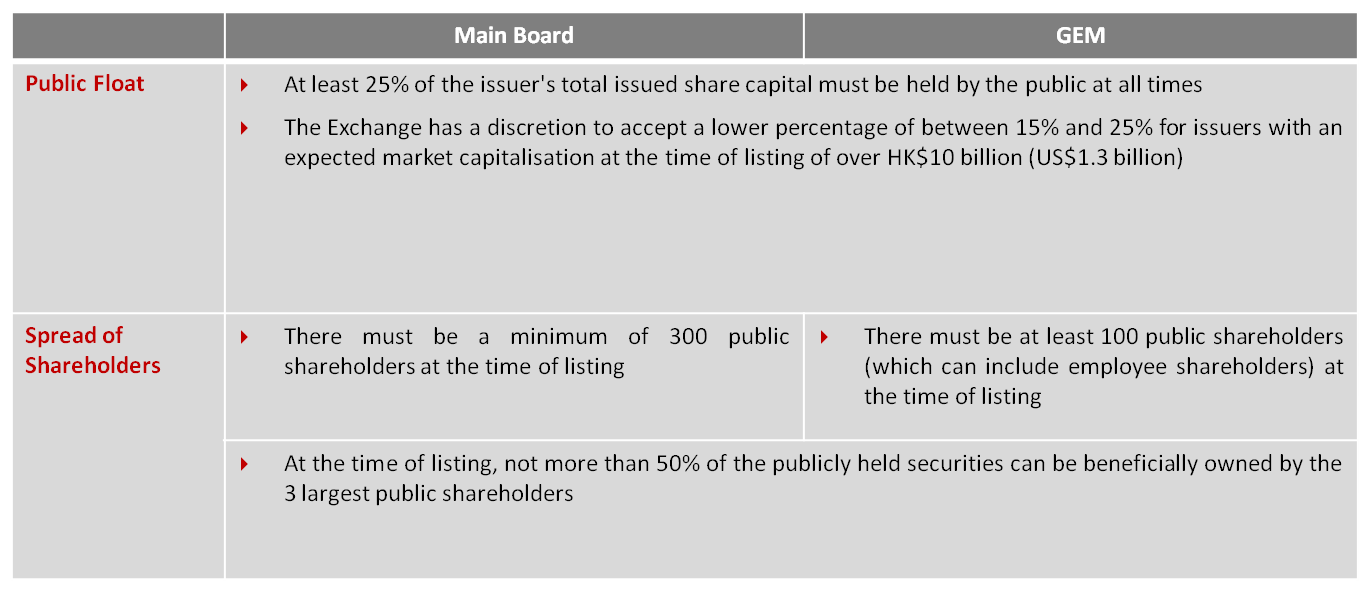 Post-Listing Fundraising
Hong Kong Main Board in 2016

HK$145,945 million share placings and HK$45,863 million rights issues

Top-up-placings

Mechanism – the controlling shareholder places shares to new investors then the company issues new replacement shares to the controlling shareholder
No requirement for offering document
A New Third Board
Calls for a new third board to attract tech companies to list
Hong Kong missed out on the listing of Alibaba Group in 2014

"One share one vote" principle and "weighted voting rights structure"
Hong Kong as a Capital Raising Centre
Commodities
Hong Kong Stock Exchange (HKEx) bought London Metals Exchange (LME) in 2012
Stock Exchange 2016-18 Strategic Goal:

Extend its existing global price benchmarks in commodities
Attract international and Mainland investors

London-Hong Kong Connect – a new trading link between the Hong Kong Futures Exchange and the LME
Fixed Income and Currency
Internationalisation of the Renminbi

Further drive cross-border investment
The Belt and Road Initiative will encourage the continued growth of the offshore RMB market
HKEx strategic goal – creation of a 'Bond Connect' Scheme
Hong Kong Law and Legal System
Competitiveness of Hong Kong law and legal system for governing Belt and Road projects

One Country, Two Systems
The Basic Law and concepts of rule of law
Dispute resolution – arbitration
Extensive experience of serving multi-jurisdictional clients
Experience of complex cross-border matters
Hong Kong's Debt Market
Recent Development

The Hong Kong dollar-denominated bond market
The dim sum market

Hong Kong is the premier offshore RMB centre

Provision of renminbi services from cross-border trade settlement to bond issues

Hong Kong is the primary offshore renminbi debt market
Renminbi (dim sum) bond market

First offshore RMB bond was issued in Hong Kong in 2007
Hong Kong's RMB Debt Market
Dim sum bonds

RMB-denominated bonds issued in Hong Kong
Growth triggered by China's continuing financial reforms
Used by overseas companies to fund trade in RMB with China
Issuers – banks, Chinese state-owned-enterprises, Chinese private companies, foreign companies e.g. McDonalds and Caterpillar
Diversified investor base. No Hong Kong restrictions on investors
Bonds trade through HK's Central Moneymarkets Unit or Euroclear or Clearstream
Offshore RMB are expected to follow the course of Eurodollar

Hong Kong has an active private-sector bond market – trading in the OTC market
Bonds can be offered without HK regulatory approval via:

"Professional only" offers
Private placements

Debt securities listed on HKEx

Debt securities offered to public investors in a retail offering
Debt securities offered to professional investors only

Recent growth in numbers of debt securities listed on HKEX

Simplified regime for listing debt securities
More RMB bonds issued in Hong Kong
Foreign Exchange
Hong Kong is a hub for foreign exchange transactions

In US$, RMB and many other currencies
Capable of assisting in cross-border investment transactions
Capable of facilitating cross-border trade payments

Internationalisation of the Renminbi

International Monetary Fund decided to include renminbi in its Special Drawing Rights currency basket
Asset Management
Hong Kong as Asia's premier asset management centre

Potential funding source for companies involved in Belt and Road projects

Recent growth driven by

Demand for renminbi investment opportunities
Hong Kong's growth as the major offshore renminbi centre

Mutual Recognition of Funds Scheme

Mutual retail distribution of authorised funds
Other advantages of Hong Kong
Geographical advantage
Transportation network
Free economic system – no restrictions on capital flow and free currency convertibility
Cultural advantage
Infrastructure Development
Belt and Road is set to develop infrastructure throughout the region

Opportunities for China to strengthen ties with Belt and Road countries
Extension of rail network to Belt and Road regions opens up new export markets

Countries with railway construction projects with China under Belt and Road

Thailand: High-speed rail line from southern China through Laos to Thailand's industrial east coast
Laos: railway line between Laos' capital Vientiane and China's Yunnan province
Indonesia: Indonesia's first high-speed rail link between Jakarta and Bandung

The Philippines looks to China and Belt and Road

Asian Development Bank projects that the Philippines needs US$127 billion per year to finance its infrastructure needs up to 2020
President Duterte has expressed intention to look to China for funding
AIIB and the World Bank have agreed to lend US$470 million for a flood control project in Manila

Huge need for better roads and railways throughout the OBOR region

In the Philippines, new infrastructure will increase agricultural exports
Africa has huge demand for infrastructure
China is leading infrastructure construction in developing the world
Opportunities for Hong Kong
Hong Kong will play a key role in Belt and Road projects:
Acting as an international financing centre for Belt and Road projects
Supporting the internationalisation of the RMB and the gradual easing of controls of China's capital account
Developing an Asian bond market and establishing bond market connectivity
As the market for issuing the "Silk Road Bonds" which have been proposed as a fund-raising source for Belt and Road projects
Capitalising on its position as the premier offshore market for the listing of Chinese companies
Hong Kong's construction, engineering and infrastructure development companies will get involved in regional infrastructure development projects
Provide a link to investment projects and finance providers for overseas construction and engineering companies
Hong Kong law has been used for many years for governing financial and commercial contracts for trade and infrastructure development in Asia. Hong Kong also has first-class dispute resolution and arbitration capabilities.
Offers access to the world's banks and investment funds more than any other international financial centre
As one-stop-shop for companies looking to take advantage of opportunities offered by China's Belt and Road
Large pool of experienced professionals in project management, financing, legal, accounting, construction, etc.
China One Belt One Road policy
Belt and Road countries
One Belt One Road projects
Hong Kong's International Financing Facilitation Office
infrastructure financing centre
Debt Financing in Hong Kong
Silk road economic belt
Post-listing fundraising in Hong Kong