Register for Charltons' 5 Part CPD Webinar on Responsibilities of HKEx-listco Directors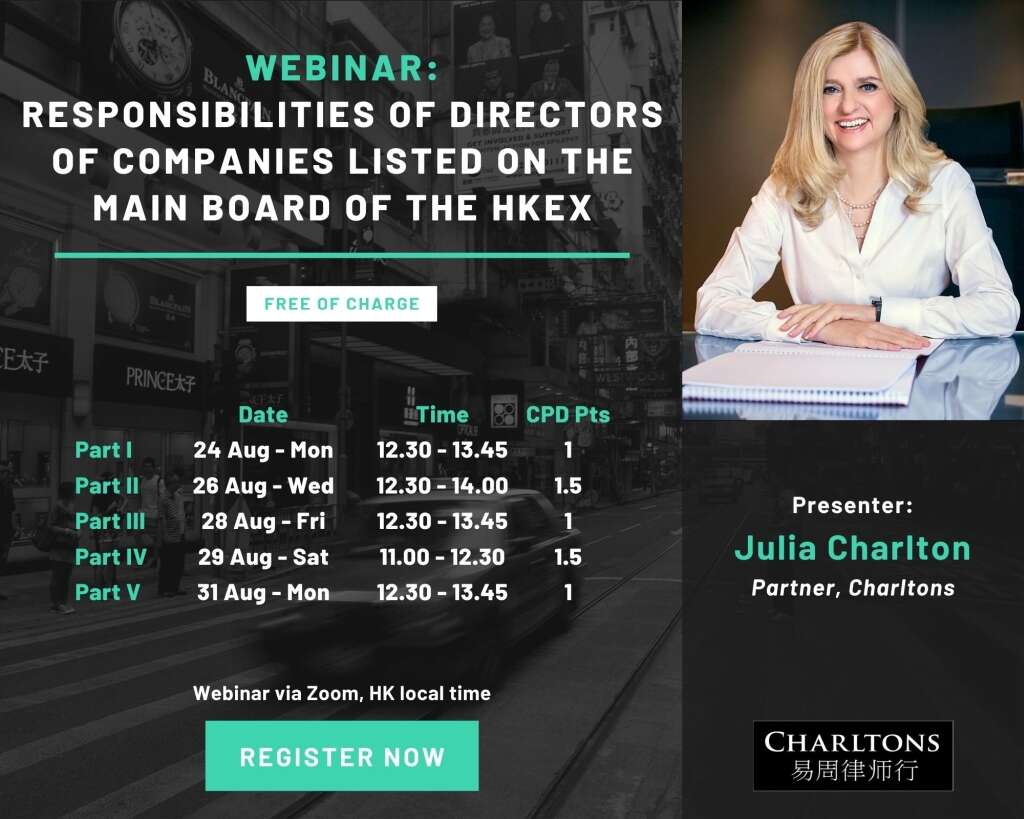 Join Julia Charlton in a FIVE part webinar series focusing on the legal and regulatory requirements for directors of HKEx-listed companies, including when you need to disclose information and when it can remain confidential. Julia will also talk about connected transactions, corporate governance, the Takeovers Code and more!
Join Charltons for an overview of how HKEx-listco directors can remain on top of their regulatory obligations.
About the Course:
The five part webinar series will cover the following topics and participants may enroll in those they wish to attend via the registration page.
For Hong Kong solicitor / trainee solicitor participants there is a maximum of SIX CPD points upon completion of all five parts.
Part I: Directors' duties and liability for breaching Listing Rule Obligations
The duties of the directors of a listed company, as well as the liability for breaching Listing Rule obligations and the inclusion of inaccurate information in the listing document.
The obligations to publicly disclose price sensitive information under Part XIVA of the SFO and where the HKEx suspects the existence of a false market or enquires about unusual movements
Part II: Disclosure requirements of listed companies and directors
Listed companies' obligations to disclose information by way of announcement and to disclose a company's financial information and changes in the number of issued shares.
Restrictions on directors' dealing in the company's securities under the Model Code, in addition to directors' obligations to disclose their interests in the company.
Part III: Notifiable transactions
The requirements regarding notifiable transactions, including the classification of notifiable transactions, the application of the percentage ratios, and the requirements in terms of disclosure and shareholder approvals.
Part IV: Connected transactions
The methods and requirements for new issues of securities, as well as the requirements regarding connected transactions, including the definitions of connected persons and associates, the requirements for connected and continuing connected transactions, and the available exemptions.
Part V: Corporate Governance Code and the Takeovers Code
Corporate governance obligations under the Listing Rules and the Corporate Governance Code.
Insider dealing under the SFO and the rules on market misconduct.
Requirements for takeovers, mergers and share buy-backs.
---
*Please note that registration ends at 9 am Hong Kong time on the day of each part of the webinar.
Disclaimer: Enrolment limited – enrolments will be accepted on a first-come-first-served basis.
Subscribe to our newsletter
and stay updated