24 October 2015, Saturday
Charltons joins hike to provide skills workshops for people with disabilities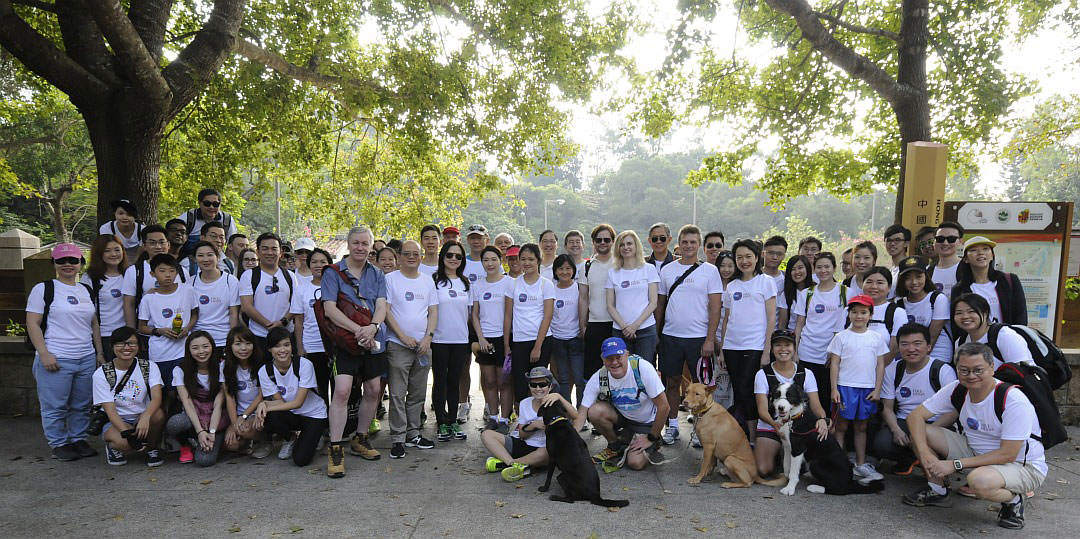 Charltons staff and friends participated in The Hong Kong Stock Exchange Listing Committee's corporate social responsibility (CSR) event, "Hike for Hong Kong", on Saturday, 24 October to raise funds for HandsOn Hong Kong (HandsOn) to provide skills workshops for people with disabilities.
More than 100 participants and volunteers, including members of the Listing Committee and their families, staff of the Listing Department and other staff of the Hong Kong Exchanges and Clearing Limited (HKEx) and other invitees of the HKEx, completed the beautiful 7.6km trail from Pak Tam Chung to Wong Shek Pier in Sai Kung Country Park to give back to the community through HandsOn. HandsOn is a Hong Kong-registered charity that addresses pressing social needs by mobilising and empowering volunteers to run programmes serving disadvantaged members of the community.
Funds raised from this hike will benefit Skills Workshops for People with Disabilities, one of HandsOn Hong Kong's programs addressing pressing social needs in Hong Kong. Many young people with disabilities struggle to secure employment after leaving school and have limited opportunities to integrate into mainstream society. This program helps to teach them skills that can lead to viable employment opportunities.
Stephen Taylor, Chairman of the Listing Committee, said, "An enjoyable and rewarding day with great participation from the listing committee members, both past and present, the listing division and our close friends and family. The event raised money for HandsOn Hong Kong and I would like to thank them for the many volunteers who joined the hike and organized the event keeping us all on the right track. The money raised will be well used by HandsOn Hong Kong to provide workshops for people with disabilities, particularly those just leaving school, helping provide them with the relevant skills to enable them to join the workforce".
Julia Charlton of the Listing Committee and initiator of Hike for Hong Kong said "It has been fantastic to see so many members of the Listing Committee and others connected with the Hong Kong Stock Exchange taking action and raising funds to provide workshops for people with disabilities withinour local community. This is the second year we have held this successful hike and I hope there are many more to follow."
Caroline Sprod, Executive Director of HandsOn, said, "We are delighted to have partnered with the Listing Committee for Hike For Hong Kong for the second year running. We are extremely grateful for the support for our new program, Skills Workshops for People with Disabilities through funds raised via Hike for Hong Kong and look forward to launching this program in early 2016″.
Last year's hike raised in excess of HK$450,000. The funds raised from the 2014 "Hike for Hong Kong" benefited HandsOn Hong Kong's Tech for the Elderly programme. Tech for the Elderly involves the collection, data-cleansing and refurbishment of donated smartphones and tablets so they can be recycled for use by elderly beneficiaries. The programme not only increases community engagement and involvement of the elderly but also enables better communication in the event of emergencies.
More photos from the event Hike for Hong Kong are available at www.hikeforhongkong.com.
Please contact us or HandOn Hong Kong if you would like to find out more about how you can help this Hong Kong charity or the Skills Workshops for People with Disabilities initiative.
Please click here to see other Hong Kong charities we have been actively involved.