15 November 2016, Tuesday
Charltons is highly recommended by Asialaw Profiles 2017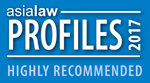 Charltons has been named in Asialaw Profiles 2017 as a Highly Recommended firm in Capital Markets, Corporate/M&A, Investment Funds and Private Equity.
Asialaw Profiles is the guide to the best domestic and regional law firms in the Asia-Pacific area. The Asialaw team carry out extensive research with in-house counsel and private practice lawyers in order to select the top ranking firms across 18 practice areas in 24 jurisdictions in the region.
The 21st edition of Asialaw Profiles is available online and as an ebook.
Click here for further information about the awards and accolades that Charltons has won.