A Tale of Three Cities: Abu Dhabi, Dubai and Hong Kong SAR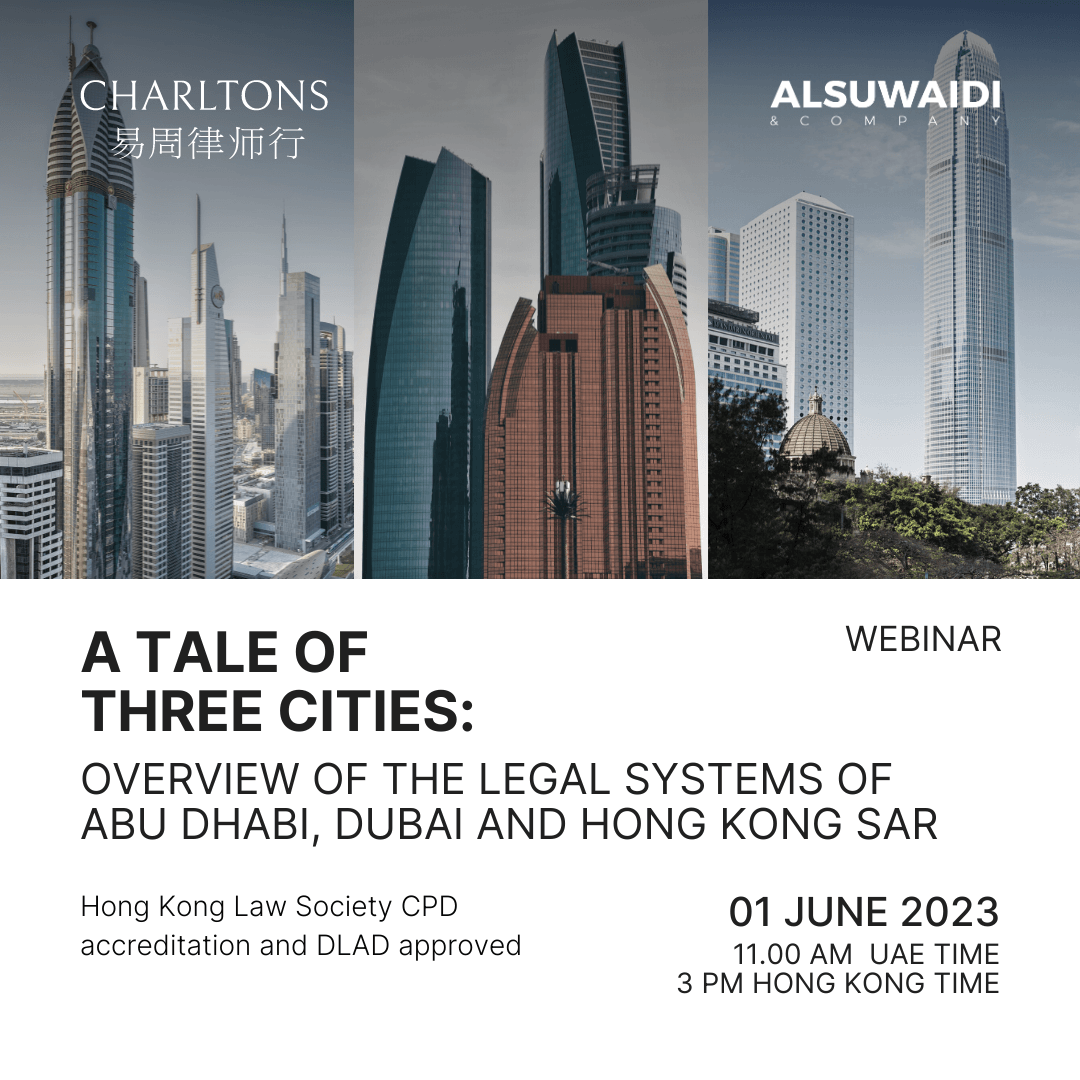 Please join us on 1 June 2023 at 3pm HK time (11am UAE time) when Charltons and Alsuwaidi & Company will be hosting a webinar entitled "A Tale of Three Cities: Overview of the legal systems of Abu Dhabi, Dubai and Hong Kong". We will be joined by Mr. Emmanuel Givanakis, the CEO of the Financial Services Regulatory Authority of Abu Dhabi Global Market (ADGM), the managing partner of Alsuwaidi & Company, Mr Mohanned Alsuwaidi and senior associates and representatives of the firm.
The Financial Services Regulatory Authority is one of the independent regulatory authorities operating within ADGM and acts as the financial regulator and supervisor of the banks, investment firms, securities traders and re-insurers that operate in ADGM. Alsuwaidi & Company is a UAE law firm established over 20 years ago with offices across the UAE, which has represented the interests of over 500 clients in the Gulf Cooperation Council and beyond.
1.5 CPD points accreditation are being applied for from The Law Society of Hong Kong.
This webinar has been approved by the DLAD and licensed Legal Consultants in the Emirate of Dubai may claim CLPD points for attendance.
The webinar will cover the following topics:
overviews of Dubai, Abu Dhabi, and Hong Kong Legal systems;
setting up businesses in Dubai, Abu Dhabi, and Hong Kong;
IP protection and registration, and litigation and the criminal courts in the UAE;
banking and Islamic finance;
international arbitration in UAE;
arbitration in Hong Kong; and
the Hong Kong Stock Exchange.
Enrolment limited – enrolments will be accepted on a first-come-first-served basis.
Please note that we accept no liability for any non-availability of any CPD Point(s) for any participants whatsoever.
CH-019943 (Webpage Portal)
2023-02-03 (Published)
2023-02-03 (Updated)